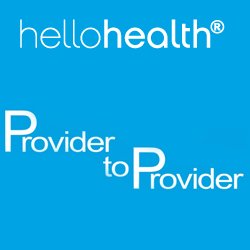 Health care reform and healthcare economics are prompting the creation of accountable care organizations (ACOs) and other systems that promote value-based, rather than volume-based care. The government defines an ACO as a group of providers of healthcare services and suppliers who are accountable for the quality, cost and overall care of a population of patients. Participants coordinate care across the continuum and share both the payment and responsibility for the quality of care provided.
The trend toward the ACOs model is accelerating – there are now 428 ACOs in 49 states, according to a recent article on the Health Affairs Blog. But ACOs may not be the answer for every physician – or for all patients. In Hello Health's March videocast, Ryan Champlin of Cook Children's Health Services examines the viability of the ACO model for small independent practices.
Champlin challenges the long-term success of ACOs, noting that most are being driven and created by hospital systems, which have an innate need to protect their profitability, but are often not set up to redistribute care from the more expensive services (i.e. specialty care) to less expensive services (primary care). He also questions the ability of hospitals and/or medical practices to fully manage risk, which becomes a major factor in a fee-for-value based setting.
"It's really only the payers –at the health plan level – that truly understand population management because they are at the bottom of the cost funnel, where you see all of the charges that have been incurred on behalf of a patient across the health care universe," said Champlin. "A practice or hospital can only see a piece of the picture. Payers have the resources to truly understand population risk. Risk is a large population game that can't be played in a small practice."
Champlin's insights are useful for understanding the complexities of accountable care at the provider level, and a recent opinion editorial in the Wall Street Journal also takes into account the extent to which patients will play an equally important role in the long-term success of the ACO model. The authors believe that the inertia required to modify patient (and provider) behavior at a level necessary to sustain the ACO movement is unrealistic.
It remains to be seen whether ACOs will stand the test of time, but most industry experts agree that increased care coordination and accountability, and emphasis on improved performance and quality of care – regardless of how they are structured – will continue to be necessary for the sustainability of the U.S. health care system. Will this mean that small independent practice owners may have more hope for keeping their autonomy rather than migrating to employment with a large organization? Perhaps. But it would not eliminate the need for practitioners to focus on building communication with colleagues, and seeking out technologies that enable collaboration, foster patient engagement and support the comprehensive sharing of health information.
For more perspectives on ACOs, watch the Hello Health videocast now.

Jennifer McDuffee is the director of marketing for Hello Health, the revenue generating EHR platform for primary care and pediatrics practices supporting practice vitality through patient engagement and electronic medical revenue.